Workplace Ergonomics: How to Maintain Optimal Health and Energy
Workplace Ergonomics: How to Maintain Optimal Health and Energy
Written By Eldorado Chiropractic on October 9, 2020
---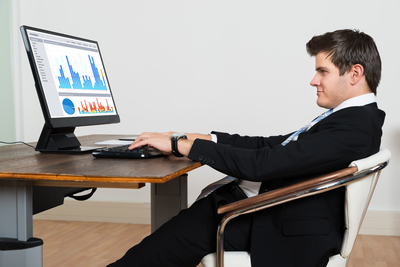 In 2013, the Bureau of Labor Statistics reported that one-third of worker illness and injury cases were due to musculoskeletal disorders (MSDs).
MSDs are most frequently caused by strain on muscles, bones, and joints. Jobs that require lifting, bending, sitting for long periods, or working in an awkward position present a high risk of MSD for employees.
Workplace ergonomics are proactive measures designed to prevent these injuries before they occur.
3 Ways to Prevent Injuries with Workplace Ergonomics
Workplace ergonomics measures are put in place to optimize efficiency and comfort for workers, reducing the risk of injuries leading to MSDs. The most important thing to keep in mind when considering ergonomics is maintaining good posture and avoiding unnecessary strain on the body.
1. Keep a Neutral Posture
A neutral posture is one in which all of the joints are in alignment and the body is balanced.
Awkward postures involving extremes in the range of motion (twisting, bending, or overreaching) can cause stress on the body.
For those with desk jobs, maintaining a neutral work posture involves keeping screens at eye level to avoid neck strain. In physical work, this includes carrying objects close to the body.
2. Take Breaks to Move Around
Many jobs require maintaining a certain posture or working on a specific task for long periods. The static load placed from remaining in one position can cause bodily fatigue.
Take breaks to move the body and improve posture, balance, and coordination. Regular movement also encourages blood flow and restores energy.
3. Minimize Movements that Require Excessive Force and Repetition
Many jobs require completing an action over and over again, and/or applying increased muscle effort. These are primary ergonomic risk factors, especially when combined. Along with awkward postures, these also increase risks for MSDs.
Whenever possible, use tools to assist and alleviate the load, take breaks, and rotate jobs.
Improve Posture and Avoid Work Injuries with Ergonomics
Being conscious about workplace ergonomics and proactively applying these techniques will improve posture and reduce the risk of work-related injuries.
If, however, you have already developed an MSD on the job, then you will need chiropractic therapy to treat it.
Dr. Scott at Eldorado Chiropractic in McKinney, TX can treat your workplace injury and work with you to prevent further problems. Call to book an appointment.

Posted In: Chiropractic Workplace Ergonomics