Get Rid of Your Shoulder Pain With Chiropractic
Get Rid of Your Shoulder Pain With Chiropractic
Written By Eldorado Chiropractic on November 29, 2021
---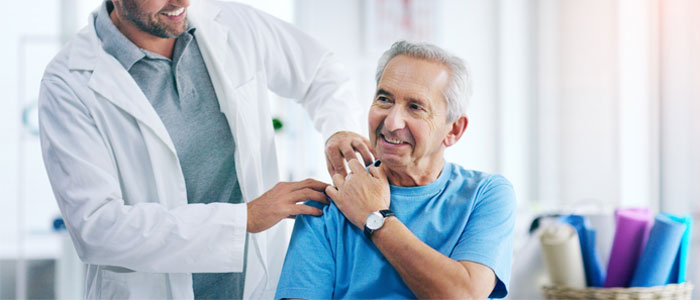 Shoulder pain can be an extremely frustrating condition. Whatever the level of your discomfort, it can decrease your mobility and lead to an overall loss of physical function. Many patients think that they can only cure their shoulder pain with drugs or surgery, but Eldorado Chiropractic in McKinney, TX has an all-natural alternative. With our professional chiropractic treatments, you can heal your pain from the inside out.
The Root of the Problem
Shoulder pain is often a manifestation of an underlying muscular or skeletal condition. This symptom can result from an injury like a torn rotator cuff or bursitis, but can also present itself due to disorders like rheumatoid arthritis or osteoporosis. Many traditional treatments for shoulder pain only focus on alleviating the symptom as opposed to addressing the origin of your discomfort. While you may experience temporary relief, these treatments will do little to prevent future pain or improve your overall physical health.
A Holistic Approach
A chiropractor's method of handling shoulder pain is very different from that of a general medical doctor. While a medical physician tends to focus on treating a patient's symptoms, a chiropractor is specifically trained to take a holistic approach. Rather than simply treating your symptoms, your chiropractor will use them as a road map to identify the underlying cause. This process will accelerate your road to recovery as opposed to maintaining your current condition.
The Benefits of Chiropractic
In addition to improving your overall health, chiropractic has several other clear benefits. While most traditional treatments for shoulder pain involve invasive surgeries that can lead to lengthy recovery periods, chiropractic is the opposite. The process is entirely non-invasive and most patients can walk right out of the office after their first session. Chiropractic also avoids the use of prescription drugs, which can come with a host of side effects. With chiropractic, you can treat your shoulder pain without surgery or medications.
Schedule an Appointment for Shoulder Pain Treatment
With our chiropractic treatments, you can finally get rid of your shoulder pain and get back to enjoying full functionality. With more than 20 years of proven care under our belt, you know you're in good hands.
To schedule an appointment at Eldorado Chiropractic, call (214) 544-8686 or send us a message here.

Posted In: Chiropractic Shoulder Pain Shoulder Injury