How Can Chiropractic Treatment Help Text Neck?
How Can Chiropractic Treatment Help Text Neck?
Written By Eldorado Chiropractic on December 27, 2019
---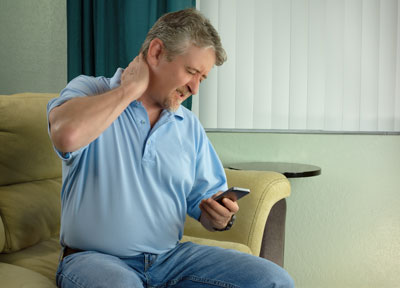 Do you have chronic pain and stiffness in your neck? Do you get headaches, or even migraines, regularly?
You could have text neck.
What is text neck? It's something that millions of people suffer from – something that often requires much more than simply putting down your phone.
In many cases, you need a neck pain treatment plan from your McKinney chiropractor.
What Is Text Neck and Why Is It So Painful?
Text neck is caused by looking down at your phone or tablet. If you're like most people, you spend a lot of time on your devices working, playing, and communicating.
Unfortunately, constantly looking down overextends the neck, shoulder, and upper back muscles. Hunching over strains the spine as well as the muscles, which causes pain, tension, reduced range of motion, and even spinal misalignment.
Neck Pain Treatment: How Your McKinney Chiropractor Can Help Ease Neck Strain
Thankfully, your McKinney chiropractor can help. Your neck pain treatment plan will likely consist of gentle spinal adjustments. If your spine is out of alignment, this places even more tension on your muscles, leading to more pain.
Your chiropractor might also perform non-spinal adjustments of your head or extremities if you're experiencing pain, headaches, or numbness/tingling.
Protect Your Neck by Reducing Your Use of Electronic Devices
If you want to stay healthy and pain-free down the road, you need to take preventative action now.
Reduce the amount of time you spend on your phone or tablet. If you experience pain, see your chiropractor right away. Dr. Scott Dawson will recommend various treatments, as well as stretches you can do at home.
Additionally, Dr. Dawson will encourage you to put down your phone and get moving, like training for and entering a local run (you just might see Dr. Dawson there!). The more active you are, the less likely you are to suffer from text neck.
Do you suffer from chronic, debilitating neck pain and/or headaches? Contact us today at 214-544-8686 to schedule a consultation.

Posted In: Text Neck