Going Back to Work at the Office? Adjust Your Ergonomics
Going Back to Work at the Office? Adjust Your Ergonomics
Written By Eldorado Chiropractic on January 29, 2022
---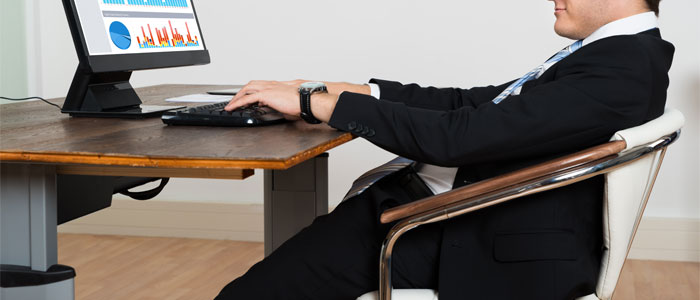 After more than a year of remote work, many professionals are beginning to head back to the office. While some people may be relieved to get out of the house, office lifestyles are not often conducive to the preservation of your physical health. If you are returning to the office, the simple act of adjusting your ergonomics can have huge benefits for your overall well-being.
The Importance of Ergonomics
Research has shown that sedentary lifestyles, including office jobs, can contribute to a number of musculoskeletal disorders or conditions. This is often the result of poor posture, which is a result of long hours spent hunching over a computer or monitor. Improper posture can throw your spine out of alignment and cause pain, discomfort and stiffness.
There are several steps you can take to improve your posture at work. By improving the ergonomics of your workspace, you can avoid musculoskeletal issues and enhance your workday.
Revamp Your Space
Your office equipment is your first line of defense against pain or discomfort. Your desk chair should provide proper lumbar support and keep your thighs parallel to the ground. You may also wish to consider investing in a sit-stand chair or similar ergonomic device that will allow you to shift your position throughout the day. Your arms and wrists should also be parallel to the floor, so adjust the height of your keyboard accordingly. In order to keep your neck in alignment, set up your computer monitor so that you can look straight ahead, as opposed to up or down.
Visit Your Chiropractor
If you are already experiencing a musculoskeletal problem, proper ergonomics may not be able to prevent pain or discomfort entirely. Before you go back to work, visit Dr. Dawson at Eldorado Chiropractic. His customized chiropractic treatments will correct any spinal misalignments that may be bothering you, so that you can reap the full benefits of your ergonomic office.
Schedule an Appointment
Maximize your productivity and elevate your overall well-being with our professional chiropractic treatments at Eldorado Chiropractic in McKinney, TX. For more information on our medical services or to schedule an appointment with Dr. Dawson, call (214) 544-8686 or send us a message here.

Posted In: Chiropractic Posture Ergonomics